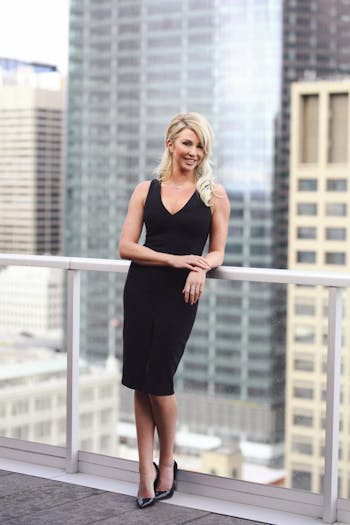 Kaitlyn brings a unique mix of education, skill, professionalism and innovation to her Real Estate clients and prides herself on conducting business with excellence.
One of her primary strengths is her trusted ability to listen and patiently understand not just what her clients are asking for but what they really need, which in Real Estate is one of the most important skills of all. Her sincerity, perseverance and enthusiasm for her chosen career enables her to best assess and fulfill her client's needs. Keeping on tops of the latest marketing and technology as it pertains to Real Estate, she sets herself apart using a vast variety of electronic and printed marketing and promotional material taking her clientele and their properties to the next level. With 7 years Real Estate experience and years before that working in a Real Estate Law Firm, the industry has become not just her profession but also her passion.
In her words: I have always had an insatiable curiosity when it comes to learning, which has translated into my daily pursuit of mastering the art of Real Estate, which I am constantly evolving.
I am fascinated by modern architecture, beautiful interiors, custom renovations and a passion for dynamic people. I look at my career as much more than selling houses, I have the unique opportunity and ability to help people identify the lifestyle they want, and then strategically find them a property that lends itself to that. Whether it be busy up and coming professionals that want a modern, inner city home in a vibrant community with lots of culture and energy, or a retiring couple, looking for their perfect suburban home to enjoy with family and a quiet neighbourhood to walk around on a beautiful summer morning, I get to be a part of helping them achieve that. It's the achievement getting to help people design and create the life they want, and where you live is a huge part of that.
To me, it's the most rewarding and exciting part of my career. A few other notes : My passions are in travelling, adventure, and seeing the world. I am an aspiring Sommelier and study wine as well as travel to vineyards all over the world to learn more about my passion! I am an animal rescue advocate and a foster for Rescue organizations! I love food and am a pizza addict. I travel every opportunity I get and have volunteered in Africa with Habitat for Humanity. I am a born and raised Calgarian who loves the city I live and work in and am always trying to promote economic growth. I love all types of people and love learning about other cultures (especially when it involves home cooking!)